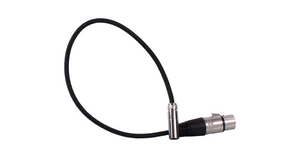 Blackhawk MINI XLR to XLR Black, 16"
A 16 inch cable with mini XLR male and XLR Female connectors.
Connectors: 3-Pin Mini-XLR Male& 3-Pin XLR Female
Connect a microphone or audio mixer to your camera with this Mini-XLR Male to XLR Female Audio Cable.
This cable connects to the camera's input with the 3-pin mini-XLR male connector, and on the other end is a standard 3-pin XLR female connector to plug into your mic or mixer.