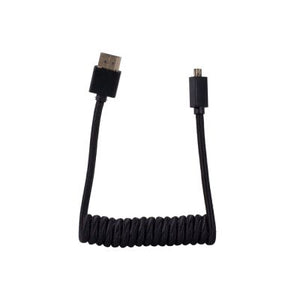 Blackhawk Coiled Micro HDMI to Full HDMI Cable (12-24")
A coiled Micro HDMI to Full sized HDMI cable with 12" contracted & 24" extended lengths.
Connect your video camera to your on-camera monitor with this micro-HDMI to Full HDMI coiled cable. This high-speed cable, with a long-lasting nylon braid, supports 4K, 60Hz, and 3D video.
Connector 1: Micro-HDMI Type-D Male
Connector 2: Full-HDMI Type-A Male
Cable Length: 12"-24" 
Weight: 1 oz
Maximum Resolution Support: 4096 x 2160 at 60 Hz
3D Support: Yes 
Jacket Type: Nylon